Duotemp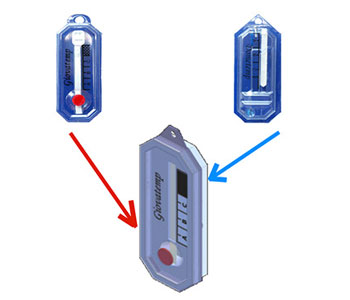 The combination of two indicators.
Giovatemp controls excessive heat and Dometemp control excessive cold.
This indicator has the feature to report the temperatures rising and falling.
The indicator shows the excess of temperature along with the accumulation of the exceeded time.
All type of anomalies are indicated immediately and irreversibly.
Highlights
Choice of high and low temperatures.
Control of a temperature range (example vaccines: + 2 ° C to + 8 ° C).
Manual activation.
Storage without special conditions.
Time-Temperature Indicator (heat & freeze)  

Available Temperatures
Lower Limits
High Limits
0°C, 2°C,5°C,15°C
2/3°C, 4°C, 5/6°C, 8°C , 11/12°C, 19/20°C, 25°C,30°C
Standard models
References
Temperature range
Duotemp +2/8°C
If temperature

out of the

range

  > +2/8°C
Duotemp +0/8°C
If temperature

out of the

range

  > +0/8°C
Duotemp +15/25°C
If temperature

out of the

range

  > +15/25°C
Duotemp +0/30°C
If temperature

out of the

range

  > +0/30°C

Technical characteristics of DUOTEMP


Model
According to your needs
Dimension
L x W x H mm

90x32x20 mm